Greasecutter Fast Foam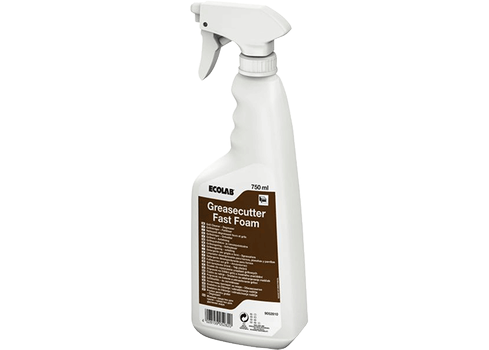 Highly efficient grill cleaner - grease remover
Greasecutter Fast Foam is a highly effective cleaner and degreaser for heavy soiling. The foam formulation also adheres to vertical surfaces and dissolves even stubborn and charred grease stains. Its special formulation and the foam spray used prevent the formation of aerosols and thus contribute to safe use.

Greasecutter Fast Foam produces no dangerous vapours and
...
Greasecutter Fast Foam is a highly effective cleaner and degreaser for heavy soiling. The foam formulation also adheres to vertical surfaces and dissolves even stubborn and charred grease stains. Its special formulation and the foam spray used prevent the formation of aerosols and thus contribute to safe use.

Greasecutter Fast Foam produces no dangerous vapours and the product is not flammable.
Field of application: grills, ovens, hotplates, grills, deep fryers and all kitchen surfaces and utensils that have to be cleaned from grease contamination.

Clean - high performance cleaner with strong and fast effect.
Safe - Without dangerous vapours and not flammable.
Efficient - Less cleaning required.
Quantity: 750 ml
EUR 25.00
incl. VAT
Shipping costs: EUR 8.90
clues
When using Greasecutter FastFoam, wear gloves and safety glasses.
Switch off grills, ovens and appliances to be cleaned. The maximum temperature must be 80 °C.
Apply Greasecutter Fast Foam to the surfaces to be cleaned.
Allow to soak in grease for 5 - 10 minutes.
If necessary, scrub stubborn dirt. Remove dissolved dirt and loose grease residues with steam, cloth or paper.
Rinse with plenty of water.